Do you love butterflies? Are you looking for a fun and relaxing activity? Look no further! We have a delightful collection of butterflies to colour in free of charge. Let your artistic side soar as you bring these enchanting insects to life with your personal touch.
Printable Butterflies To Colour In Free
Explore a collection of stunning butterfly coloring pages to download and print for free. Let your imagination take flight as you bring these beautiful creatures to life with vibrant colors. Click below for each picture download the PDF and embark on a colorful journey!
Don't miss: Free butterflies rainbow coloring pages
Endless Creativity
With these butterfly patterns, you can explore endless possibilities for your crafts.
Fun for All Ages
Butterflies to color in free are not only for kids but also for adults who love arts and crafts. Whether you want to engage your little ones in a creative activity or indulge in some relaxing coloring therapy yourself, these patterns of butterfly's body are perfect for all ages.
Educational Value
Coloring butterflies can also be a great educational tool. It helps children learn about different butterfly species, their colors, and patterns. You can turn it into a fun learning experience by discussing facts about butterflies while coloring.
Also, you may like: Coloring Pages Foods for Kids and Adults
Cutout Patterns for Crafts
Once you've colored in your butterflies, it's time to bring them to life! Cut out the patterns and use them as templates for various crafts. You can make butterfly-shaped bookmarks, and fridge magnets, or even stick them on windows for a vibrant display.
Personalized Gifts
Crafted butterflies make wonderful personalized gifts. Create a custom card for a loved one by attaching a colorful butterfly cutout to the front. It's a heartfelt and unique way to show someone you care.
Butterfly printable template
Download free butterfly template
Butterfly outline simple
Download butterfly printable free
Butterfly wing template
Download butterflies to colour in free
Cute butterfly coloring pages for preschool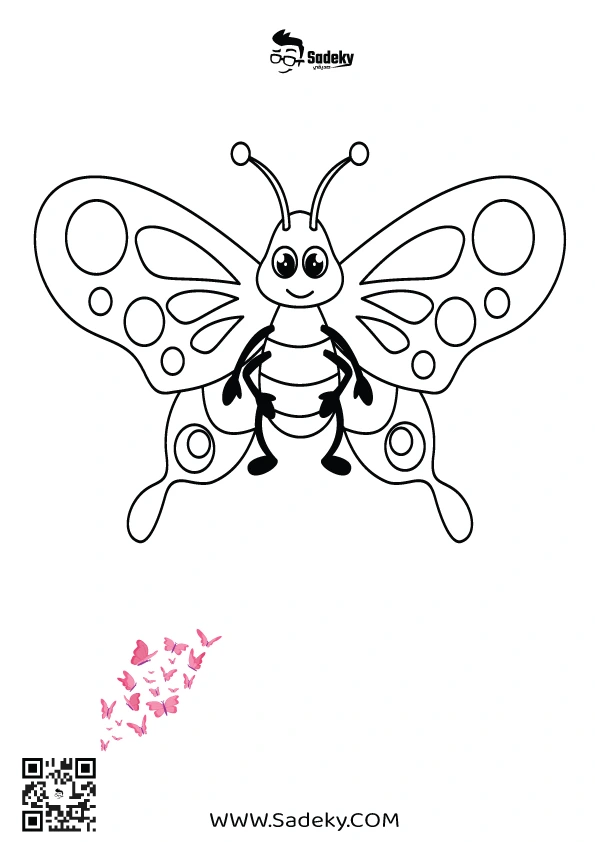 Download cute butterfly to color for preschool
Butterfly template to print
Download butterfly picture to color
Butterfly stencils free printable
Download free butterfly stencils
Cartoon butterfly coloring page
Download cartoon butterfly coloring page
Summary
To enhance your coloring experience, we have made these butterfly coloring pages available for free download as a PDF. Simply click the link below the images and get ready to embark on a colorful journey. With the PDF, you can print out as many copies as you like and experiment with different color combinations.
Butterflies to colour in free provide a world of creativity and endless possibilities for your crafts. Whether you're a kid or an adult, these printable patterns are sure to bring joy to your artistic endeavors. So, download, print, and start coloring today to unlock the beauty of these magnificent creatures!
Explore Sadeky website and discover related articles you may like!
Don't miss out on our latest news and updates! Follow us on Facebook and stay up-to-date with our latest posts."
Visit Reddit.com to discover new communities and join conversations on a variety of topics