Looking for a fun and educational activity for your kids? Look no further than easy chicken colouring pages PDF! Featuring a variety of designs, including a hen run sheet, rooster, hen on nest, chick, farm chicken, and funny chicken, these coloring pages are the perfect way to keep your kids entertained while also helping them develop their creativity and fine motor skills.
Free Chicken Coloring Pages For Kids And Adults
Click the button below to download these fun and educational chicken coloring pages for your kids today! Let their creativity soar as they color in these colorful designs. IT'S FREE
Don't miss: Free Coloring Pages Foods for Kids and Adults
1.Doodle chicken colouring pages
Bring some fun and creativity to your kids' coloring time with the doodle chicken coloring page! Kids will love the freedom to color in this design as they see fit, making it a great way to unleash their creativity and imagination.
Read online: The Ugly Duckling Short Story To Read Online
2.Hen on nest coloring page
The hen on the nest is a simple but adorable design that is perfect for younger kids.
You may like: Easy Cute Food Colouring Pages for toddlers
3.Funny chick coloring page
The chick coloring sheet, with its fluffy feathers and cute little eyes, is a popular design that kids of all ages will love.
Don't miss: Worksheets Activities Teaching Fruits And Vegetables To Preschoolers
4.Chicken farm coloring pages
Bring a touch of warmth and love to your kids' coloring time with the hen on a farm with a little chick coloring page! This adorable design features a mother hen on a farm, surrounded by her little chicks. Kids will love bringing this scene to life with their own color choices, and they'll enjoy the chance to imagine what life on a farm is like for these adorable little birds.
Don't miss: Farm Animal Shapes To Trace, Color And Draw
5.Rooster Printable coloring page
The hen rooster coloring page, with its colorful feathers and proud stance, is a fun and challenging design that is sure to get your kids' creative juices flowing.
Don't miss to read : Golden Egg Story In English Written With Moral
6.Chicken coloring pages for adults
Take a break from the daily grind and enjoy some relaxing coloring time with the chicken colouring pages for adults! The end result is sure to be a work of art that you can be proud of.
Don't miss: Free Cartoon vegetable coloring pages with names
This playful design features a chicken run. Kids will love coloring fun and adventure for their favorite feathered friend.
8.Easy chicken tracing picture drawing
The easy chicken tracing picture is a great way to help kids improve their fine motor skills and hand-eye coordination, as well as develop their confidence and creativity.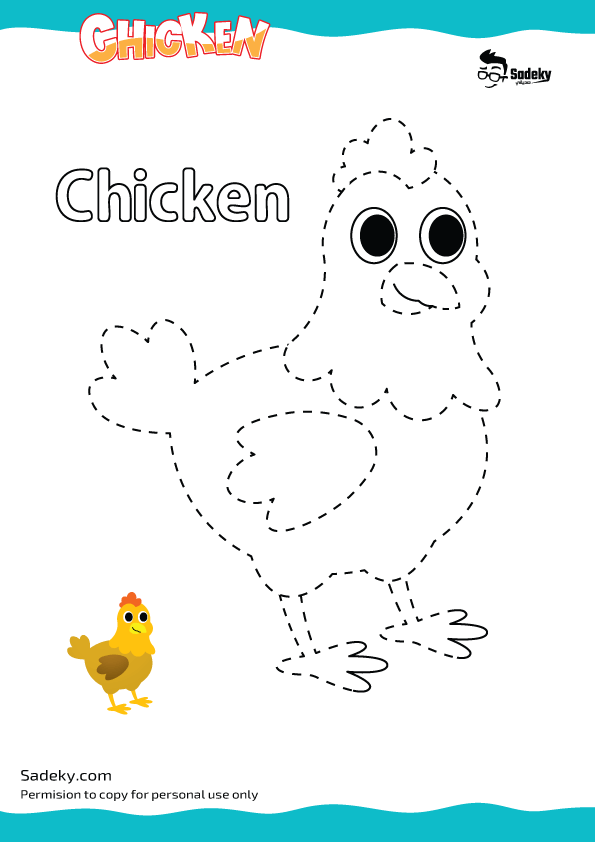 Don't miss: Easy Animals Trace and Color Shapes
9.Egg coloring page printable
Simple and Fun Design for Kids: Bring some simple and fun coloring time to your kids with the egg coloring page! This design features a simple egg shape that is ready for your kids to bring to life with their own color choices.
Did you know that the most-liked post on Instagram is a photo of an egg? So let your kid color this egg and share it. who knows, it may become the next most-liked post!
You may like: Free Printable Vegetable Flashcards For Kindergarten
10.Cartoon chicken coloring page with text box
Bring some fun and whimsy to your kids' coloring time with the cartoon chicken coloring page with a text box! This playful design features a cute and doodle cartoon chicken, complete with a text box where kids can add their own jokes, captions, or messages. Whether they want to make their chicken say something silly or write a fun story to go along with their picture, the text box is the perfect addition to this fun and a playful coloring page.
Don't miss: Vegetable Riddles For Kindergarten With Answers
11.Roast chicken coloring pages
This page features a delicious plate of chicken, ready for you to add your own colors and creativity.
See: Free Spring Easy Drawings Ideas For Kids
Easy chicken colouring pages are a fun and educational activity that kids of all ages will enjoy. They are an excellent way to help your kids develop their creativity and fine motor skills, while also providing them with hours of entertainment. So why wait? Download these chicken coloring pages today and start coloring!
Boosted creativity and imagination: Coloring allows kids and adults to let their imaginations run wild and create their own unique designs.
Increased focus and concentration: Coloring requires focus and concentration, which can help improve attention span and cognitive skills.
Enhanced emotional expression: Coloring allows kids and adults to express their emotions and feelings through the use of color and design.
A fun and educational activity: Chicken coloring pages can also be used as an educational tool to teach kids about different breeds and types of chickens.
Don't miss: Butterflies To Color In Free
In addition to these benefits, chicken coloring pages are also a great way to bond with family and friends, as well as a fun and creative activity for individuals to enjoy on their own. So why not try out some chicken coloring pages today and experience the many benefits for yourself? Download your free PDF below…
Related articles
Visit Reddit.com to discover new communities and join conversations on a variety of topics.
"Don't miss out on any of our new content! Make sure to subscribe to our YouTube channel by clicking the subscribe button. This way, you'll always stay up to date on our latest videos."