A Fun and Creative Way to Learn About Healthy Eating. Easy cute food colouring pages are a fun and creative way for kids to learn about healthy eating. They can color and learn about the different fruits, vegetables, and other foods that make up a balanced diet.
You can download the high-resolution file below… 
Don't miss: Food Bingo Cards Printable
Printable Easy Food Colouring Pages for kids
Whether your child is learning about the food groups for the first time or just loves to color, these coloring pages are a great way to encourage them to learn about the foods that are good for their bodies.
Also don't miss: Free Printable Vegetable Flashcards For Kids
Coloring pages food cute
Breakfast Foods Coloring Page: Start the day off right with this fun coloring page featuring breakfast foods like eggs, milk, and toast. Kids will love coloring in their favorite breakfast foods.
Don't miss: Free Coloring Pages Foods for Kids and Adults
Printable cute food coloring pages
Fast Food Coloring Page: Teach kids about healthier fast food options with this coloring page.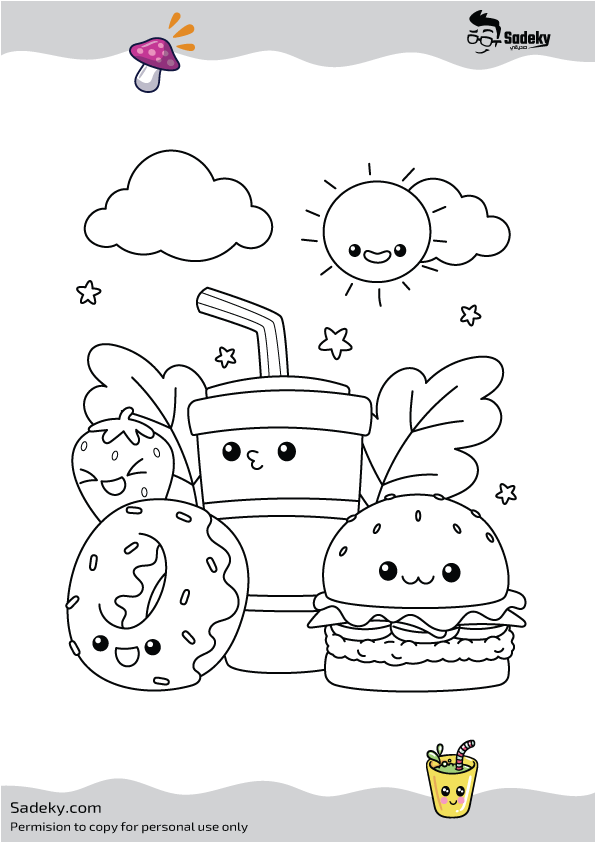 Don't miss: Food Flashcards Free
kawaii food coloring sheet
You may like: Easy Activities Teaching Fruits And Vegetables To Preschoolers
Cute avocado coloring pages
This cute avocado coloring sheet is a fun and creative way for kids to learn about the benefits of eating avocados.
Don't miss: Cartoon vegetables coloring pages with names
Cute food coloring pages to print
You may like: Easy Vegetable Riddles For Kindergarten With Answers
Cute Desserts coloring pages
Desserts Coloring Page: This page features a variety of delicious desserts cakes and cappuccinos. Teach kids about moderation and how to balance these treats with healthier food choices.
Cute fruit coloring pages
Fruits Coloring Page: This coloring page features a variety of colorful fruits that kids can color in. From apples and bananas to strawberries and oranges.
See: Food bingo cards free printable
Don't miss downloading your cute food coloring book pdf below…
Benefits of Cute Food Colouring Pages for Kids:
These are the benefits of cute Kawaii food coloring pages for your kids…
1. Encourages healthy eating:
The coloring pages promote healthy eating habits by teaching kids about different foods that make up a balanced diet.
2. Enhances creativity:
Coloring is a creative activity that allows kids to express their artistic skills and imagination.
3. Develops fine motor skills:
Coloring requires the use of fine motor skills, which can help kids improve their hand-eye coordination and dexterity.
4. Improves knowledge:
The coloring pages provide a fun and engaging way for kids to learn about healthy food options and their benefits.
5. Boosts self-esteem:
Completing a coloring page and seeing their finished artwork can boost a child's self-esteem and confidence.
6. Encourages family time:
Coloring pages can be a fun activity for families to do together, promoting bonding and quality time.
7. Supports cognitive development:
Coloring can also support cognitive development by improving focus, attention, and problem-solving skills.
In conclusion, food coloring pages are a fun and educational tool that can be used to teach kids about healthy eating. Whether they are coloring in fruits and vegetables or learning about fast food alternatives, these pages are a great way to encourage kids to make healthy food choices.
You may like these articles:
Visit Reddit.com to discover new communities and join conversations on a variety of topics.
"Don't miss out on any of our new content! Make sure to subscribe to our YouTube channel by clicking the subscribe button. This way, you'll always stay up to date on our latest videos."