Here are some funny and entertaining short poems about animals with rhyming words that kids will love! These cute poems use rhyme and imagery to capture the unique sounds and actions of cats, dogs, birds, frogs, fish, and more. The rhythmic words help make these poems easy to remember and fun to recite. Use these poems to teach rhyming words or just for enjoyment!
Short poems About Animals That Rhyme
These funny kids' poems use rhymes and imagery to describe how each animal moves and sounds:
Short cat poem That Rhyme
The Cat
The cat goes meow,
The cat's fur is wow,
The cat likes to prowl,
Around the house, it will growl.
Don't miss: Rhyming Riddles For Kids With Answers
Short Dog Poem That Rhyme
The Dog
The dog goes woof,
The dog's tail goes whoosh,
The dog loves to play,
Throughout the day.
You may like: Rhyming Words Flash Cards Printable
Short bird Poem That Rhyme
The Bird
The bird goes tweet,
It flaps its wings when it eats,
It flies up high,
Into the sky.
See: Funny Rhyming Riddles For Preschoolers
Short frog Poem That Rhyme
The Frog
The frog goes croak,
It jumps in the lake with a poke,
It swims and hops around,
Making splashing sounds.
Don't miss: Worksheet On Rhyming Words For kids 
Funny fish poem That Rhyme
The Fish
The fish goes blub,
It swims in the tub,
Its fins go flap flap flap,
As it takes a morning lap.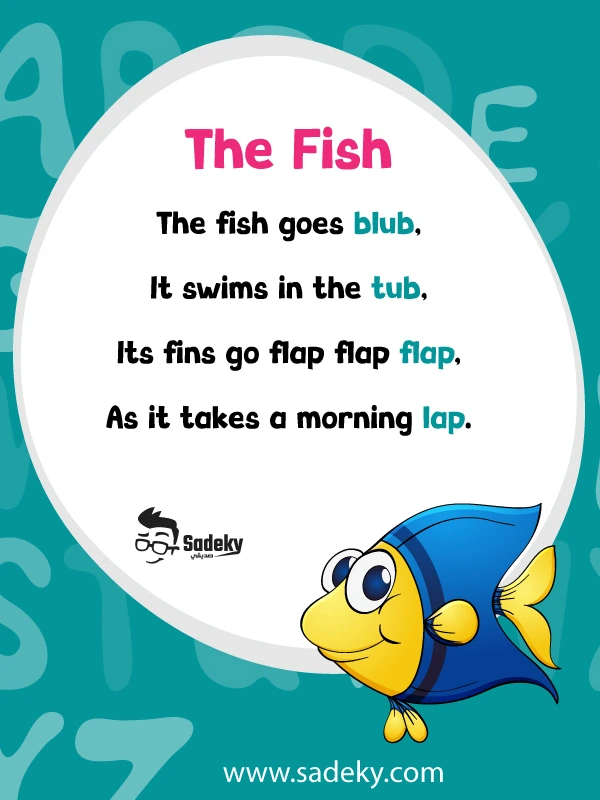 Funny chicken poem That Rhyme
The Chicken
The chicken goes cluck cluck,
It walks around and plucks and plucks,
Then it flaps its wings,
And feathers swing.
See: Chicken Coloring Pages Printable
Rhyming poem about Sheep
The Sheep
The sheep goes baa baa,
Its wool is fluffy like a spa,
It nibbles grass throughout the day,
Then comes back home to hit the hay.
Funny lion poem That Rhyme
The Lion
The lion roars grr grr,
It's the king with a big fur,
With its large mane it looks so regal,
The lion's mighty and feral.
Conclusion
These Short poems about animals are a fun way for kids to learn about the sounds different animals make. The rhyming words help make the poems catchy and easy to remember. Kids will love reading about the clucking chicken, the baa-ing sheep, the roaring lion, and more! Rhyming animal poems can help build literacy skills while also sparking imagination and creativity. Try reading these cute poems aloud or using them to teach rhyme schemes. Both kids and parents will enjoy this collection of funny, rhyming animal poems!
Don't miss out on our latest news and updates! Follow us on Facebook and stay up-to-date with our latest posts."
Visit Reddit.com to discover new communities and join conversations on a variety of topics